So when I got home Monday night, there was a package waiting for me. It came all the way from England and had multiple surprises in it! I opened it with care, (more like ripped into that thing like a dog with a stuffed squeaky toy!) Inside I found a postcard that had sticky notes on it- I had to wait to read it until after I opened my gifts. Yes- multiple gifts!
The first gift I opened was an awesome First Aid wrap kit. It's the perfect gift- my husband is a klutz and I usually have to patch him up every once in awhile. I know, I'm an angel. (Yeah, I couldn't even type that with a straight face…)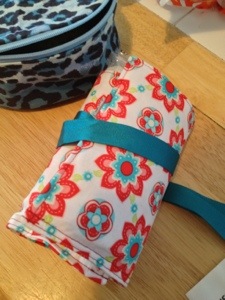 The

The second gift I opened was this awesome blue leopard print round pouch. Inside of it was yet another gift! It was this awesome yellow ring pincushion with three leaf pins.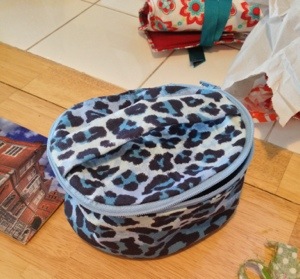 Lastly, there was even a present for my son, Jackson. Needless to say he ripped that paper off and was super excited- stickers and candy!!

How cute is he?! I can't stand how freaking awesome this lady is- she thought of everything and totally made cool gifts! I do love swaps and hope I will get to do more of them…
If you're curious as to who this amazing lady is- head over to Amy's Crafty Shenanigans! Thanks Amy- you're a peach!